JAMES VOSS
Born March 3, 1949, in Cordova, Alabama, but considers Opelika, Alabama, to be his hometown. Married to the former Suzan Curry of Birmingham, Alabama. They have one daughter. He enjoys woodworking, skiing, softball, racquetball, scuba diving, and flying an airplane he built himself.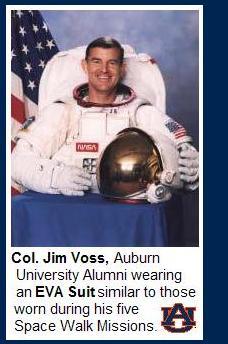 NASA EXPERIENCE:
Other occupation: Test Pilot and Engineer
Rank: Colonel, United States Army
Space time: 202d 05h 28m
Selection: 1987 NASA Group
Missions: STS-44, STS-53, STS-69, STS-101, STS-102, Expedition 2, STS-105
After retiring from NASA in 2003, Col. Voss became Associate Dean of Engineering for External Affairs at Auburn University, assisting with student projects and development for the College and teaching a class in Aerospace Engineering on human spacecraft design. While at Auburn he led a team of twelve aerospace engineering seniors and one graduate research assistant in the development of a crew seat prototype for space startup
Transformational Space Corporation, or t/Space. In November of 2007 Voss left t/Space to become the Vice President of Engineering at SpaceDev.
Click On Each Astronauts Name to Learn More about them:
*Thomas "Ken" Mattingly *Clifton Curtis 'C.C.' Williams *Henry "Hank" Hartsfield
*James Shelton Voss *Nancy Jan Davis *Kathryn Ryan Cordell Thornton