C.C. Williams
Clifton Curtis 'C.C.' Williams (September 26, 1932 - October 5, 1967) was a NASA astronaut and United States Marine Corps Major (United States) who was killed after a mechanical failure caused the flight controls in a T-38 he was piloting to stop responding. The aircraft crashed in Florida near Tallahassee.
NASA EXPERIENCE:
Other occupation: Test Pilot
Rank: Major (United States), United States Marine Corps
Selection: 1963 NASA Group
Missions: Died Before Flights, Major Williams was Remembered by Fellow astronauts as a fourth star present on the Apollo 12 Mission Patch.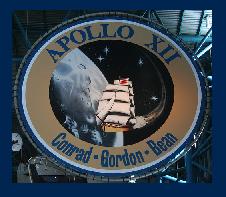 He was buried at Arlington National Cemetery.
Click On Each Astronauts Name to Learn More about them:
*Thomas "Ken" Mattingly *Clifton Curtis 'C.C.' Williams *Henry "Hank" Hartsfield *James Shelton Voss *Nancy Jan Davis *Kathryn Ryan Cordell Thornton