College of Engineering / Giving to Auburn Engineering / 100+ Women Strong / Events
---
Events
Auburn Engineering and 100+ Women Strong are committed to helping female engineering students network with others, to engage in opportunities to learn from professional female engineers, and to interact with women who support and understand the journey of becoming a well-rounded and successful Auburn engineer.
UPCOMING EVENTS

RECENT EVENTS
Stronger TogetHER: An Evening of Networking and Development


Find photos from this event here .
Virtual New Student Welcome hosts students, parents and members
More than 100 incoming female engineering students, 60 parents, 60 alumni members of 100+ Women Strong, faculty and staff joined the New Student Welcome hosted by 100+ Women Strong on August 4. The event, which was hosted via Zoom rather than in person, allowed students to hear from Christopher B. Roberts, dean of engineering and interim vice president for development, as well as keynote speaker Susan Story, '81 industrial engineering. Incoming freshman and current students were also welcomed with a surprise virtual visit from Aubie before joining group breakouts to talk with other students about their upcoming classes. Read more here
MADE at Auburn - September 27th, 2019


100+ Women Strong celebrated another successful event! Female high school Juniors and Senior were invited by the Engineering Outreach and Recruiting Office to attend MADE at Auburn, where they met other prospective Auburn engineers, alumni, current students and representatives from each of the engineering disciplines.
The event took place in the Brown-Kopel Grand Hall, and included a welcome breakfast, a message from the Dean, student experience panels with current students and alumni, an update from admissions and a lunch with keynote speaker, Emily Zieman, '04 aerospace engineering.
Emily gave a rousing address, inspiring students to "let engineering open the world for you." She spoke about her experience as a professional in the Pentagon and how "Auburn Engineering was the catalyst for these things."
Check out our Flickr Gallery to find photos from this event!
Career Fair Prep Lunch & Learn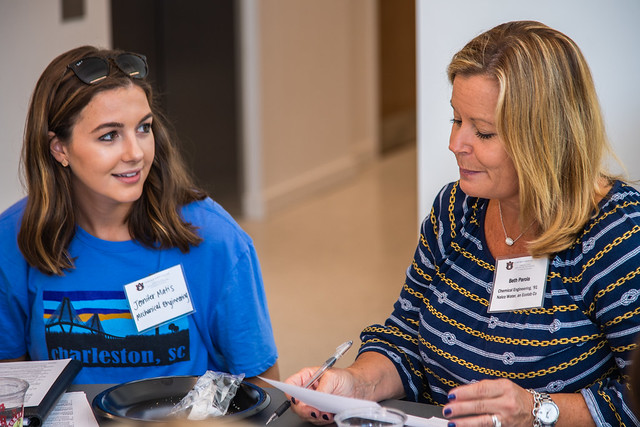 On Sept. 11, 2019, 100+ Women Strong hosted a Career Fair Prep Lunch & Learn with SWE and was a huge success!!
Thank you Beth Parola, Lisa Martindale, Krysta Weed, Lisa Butler, Jessica Metcalf, Samantha Scott and Jessica Bowers for providing excellent advice and feedback to 30+ eager and engaged female engineering students!
Additional photos from the event can be found here.
2019 New Student Welcome Event - August 16th, 2019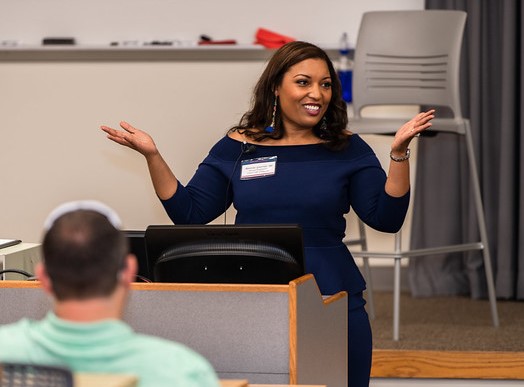 Incoming engineering freshman, transfers, graduate students and their family were invited to attend the New Student Welcome, hosted by 100+ Women Strong on August 16 th! Nearly 250 incoming female engineering students and their parents were greeted by 50 members. Our own Antoria Guerrier, '00 electrical engineering, delivered an inspiring keynote address encouraging future engineers in the room to FOCUS on overcoming setbacks and throwing out old misconceptions about the engineering profession. Thank you, Antoria!

Additional photos from this event can be found here.
Women In Engineering camp luncheon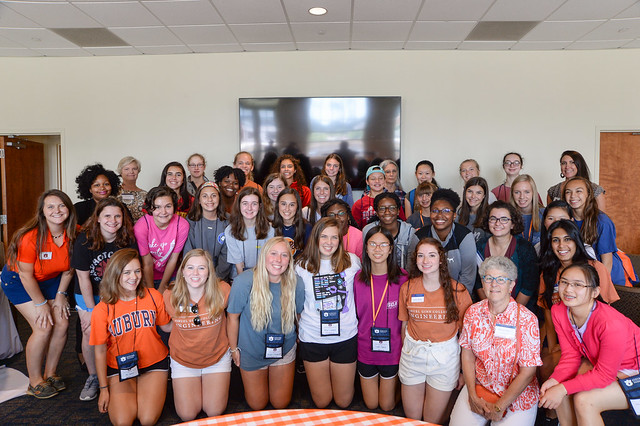 On July 16, 2019, 100+WS hosted the WIE Camp Luncheon, attended by nearly 40 campers and student counselors. Thank you to Melissa Herkt, Dr. Jackie Hundley, Dr. Virginia Davis, Dr. Molly Hughes, Beth Prior and Nesha Herd for making this luncheon a memorable experience for these aspiring female engineers. Additional photos from this luncheon can be found here.
An Evening of Networking and Development
On April 4 th,2019, 100+ Women Strong hosted an Evening of Networking and Development which was attended by over 80 female engineering students and over 50 100+WS members. Photos from this event are available here.
2018 MADE at Auburn event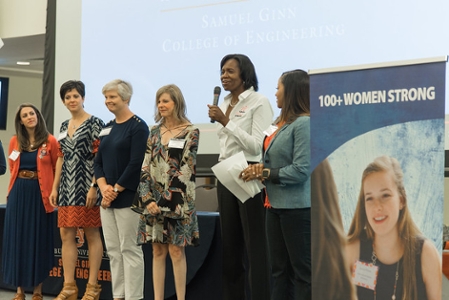 2018 MADE at Auburn event was attended by 88 high school Juniors and Seniors. 2019 MADE is set for September 27th. More photos from this event can be found here.