The NCAT experience is unique, combining world-class research and education with Auburn University's friendly atmosphere. NCAT will always have a special place in the hearts of those who have studied and worked here. In this issue, we catch up with Allen Cooley, Mike Huner, and Chris Jones as they reflect on their time at NCAT and how it shaped the course of their careers.
Allen Cooley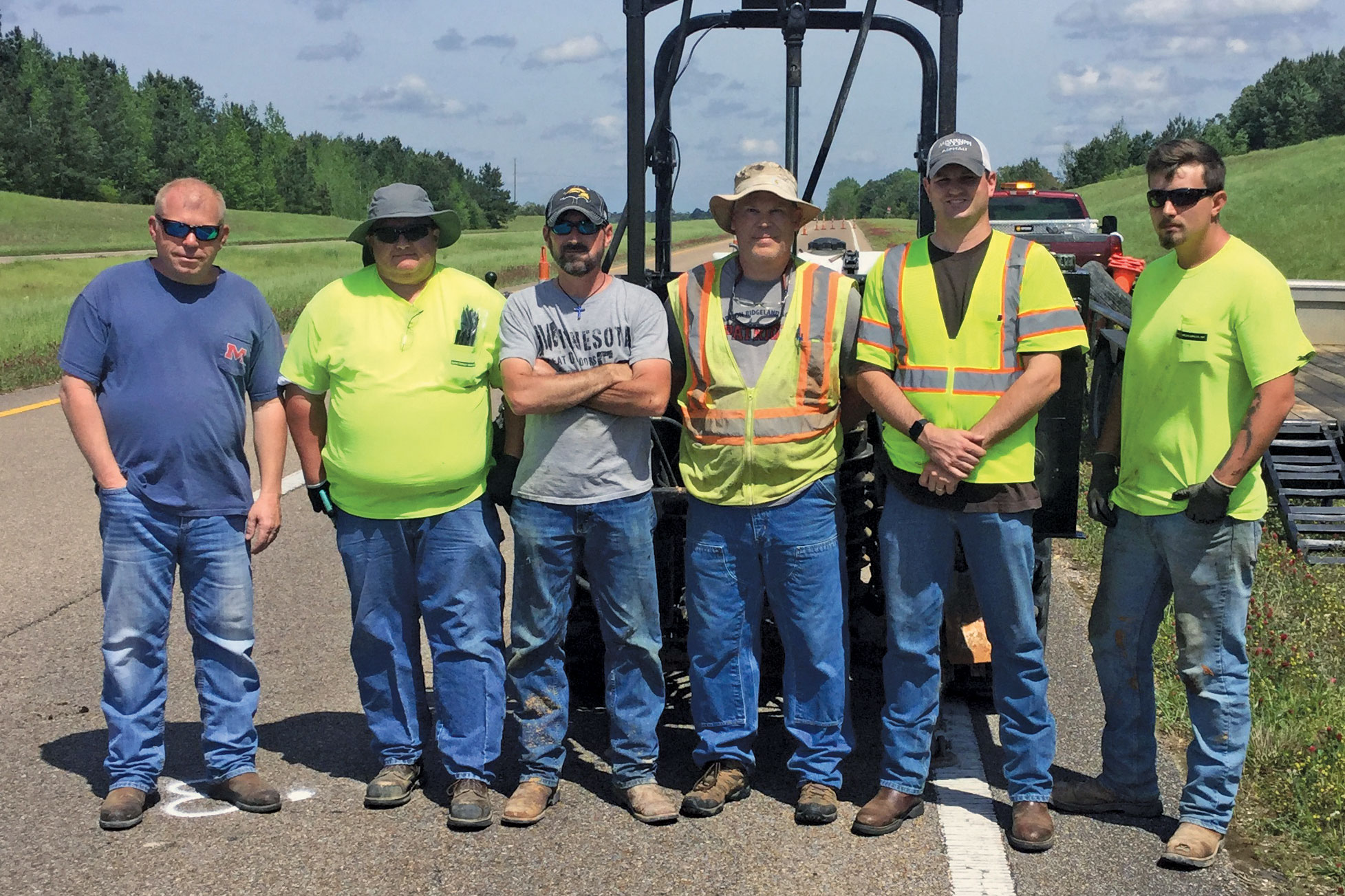 Allen Cooley (third from the right) with his crew on a recent project.
Growing up in Vicksburg, Mississippi, Allen Cooley's father worked with the U.S. Army Corps of Engineers and their family attended church with Dr. Ray Brown, who later became Director of NCAT. In 1985, they moved to Jackson, Mississippi where his father started the geotechnical firm Burns Cooley Dennis, Inc. Allen worked there as a young engineer and happened to run into Dr. Brown on a return flight from a training course who encouraged him to get his master's at Auburn.
Allen's graduate research evaluated the influence of baghouse fines on asphalt mixtures. After graduation, he stayed at NCAT as a research engineer and earned his PhD. His dissertation focused on the restricted zone in Superpave gradation requirements. He also worked on projects associated with the implementation of stone-matrix asphalt (SMA) and new-generation open-graded friction course (OGFC) and was involved with the Southeastern Superpave Center.
"When I was at NCAT, Superpave had just come out," said Allen. "Anytime there's something new, there's kinks, and I was lucky enough to be there when a lot of those kinks were being worked out. I was there at a really good time, and it all goes back to a flight from Atlanta, Georgia to Jackson, Mississippi when I saw Ray Brown."
In addition to the practical experience, Allen is most grateful for the people he worked with at NCAT and the relationships formed there.
"Ray Brown, Ken Kandhal, Doug Hansen, Shane Buchanan, Brian Prowell, Robert James, Kevin Williams, Tim Vollor, Bob Johnson, Todd Lynn, Mike Huner, Carol Mims, Vinnie Hester, Kim Johns, just to name a few—I don't know how you could have a better group of people," recounted Allen.
Allen moved back to Mississippi in 2003 to work with Burns Cooley Dennis, Inc., which had grown to include construction materials testing and pavement engineering. The firm's connection to NCAT remains strong, with five other current or former employees having worked at NCAT. Allen is currently finishing up his most enjoyable project ever: gathering field data to locally calibrate performance models for Mississippi's implementation of AASHTOWare Pavement ME Design.
Allen and Nancy, his wife of 24 years, have one son, Zach, who is pursuing a degree in landscape contracting at Mississippi State. Allen enjoys hunting and watching Mississippi State sporting events in his spare time.
Mike Huner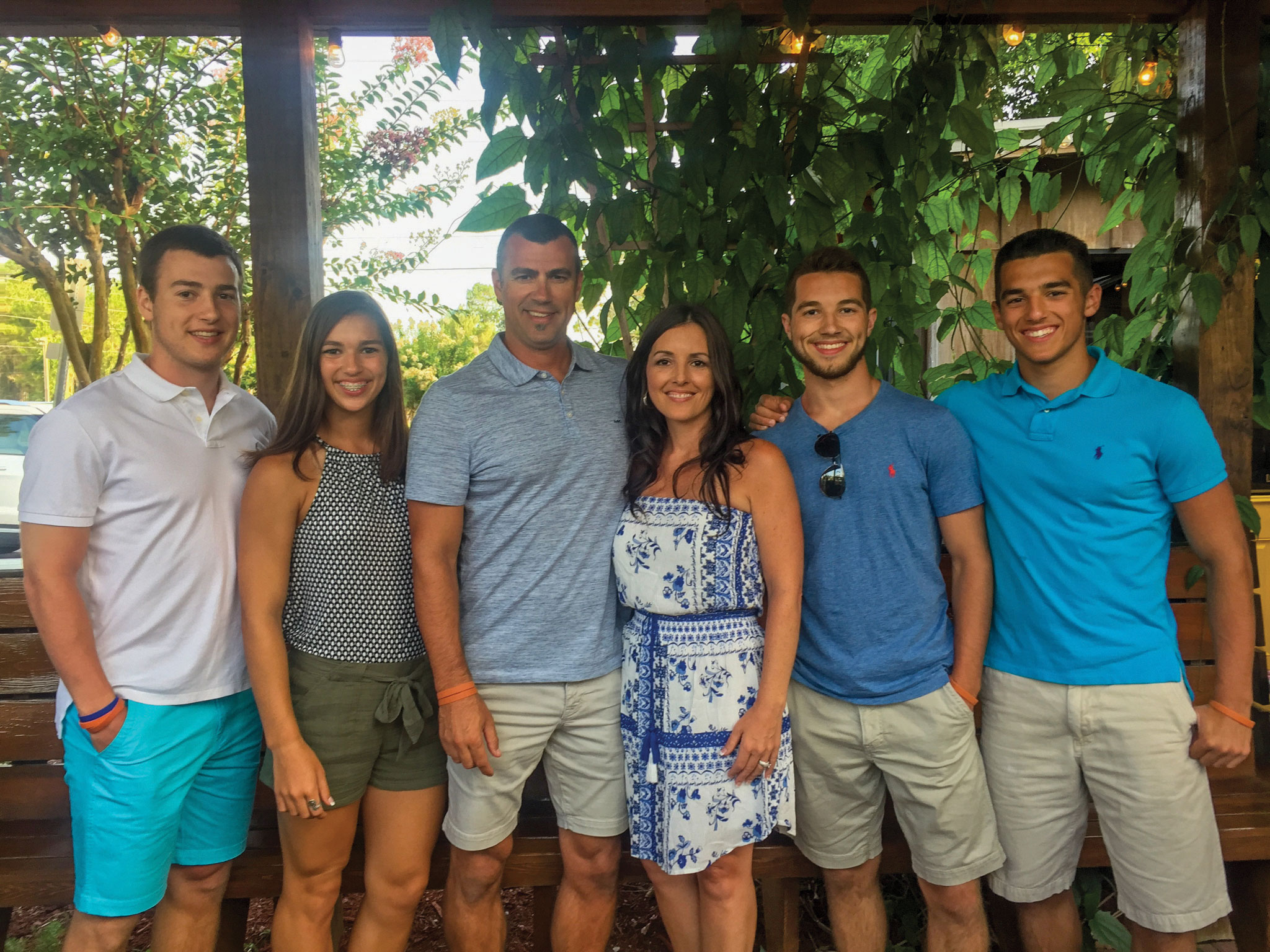 From left to right: Seth, Isabella, Mike, Alisha, Cole, and Jake Huner.
Mike Huner comes from an Auburn Engineering family. His father served as the engineer in Pike County, Alabama for many years, while his brothers Jeff and Chris both work for the Alabama Department of Transportation (ALDOT).
Mike joined ALDOT's civil engineer training program, working during summer and Christmas breaks while attending college. He started at Troy State and played baseball there before transferring to Auburn two years later, where he began working in the lab at NCAT, following in the footsteps of his brother Chris.
When Mike graduated in 1995, his planned career with ALDOT was halted due to a hiring freeze. Instead, he became a research engineer at NCAT and obtained a master's degree. His thesis focused on the effects of reheating on laboratory-compacted asphalt mixtures. Mike taught mix design and asphalt technology courses and was also involved with the construction and first research cycle of the NCAT Test Track.
In 2002, Mike and his family moved to Thompson's Station, Tennessee where he worked with the Asphalt Institute as a regional field engineer for the southeast. He took a job with SemMaterials in 2007 and then became technical director for the asphalt division of the Tennessee Road Builders Association (TRBA) in 2009. In 2014, he started Huner Consulting, LLC to serve as a resource for area cities and counties. He also offers technical training courses and speaks regularly at conferences.
"One thing I kept noticing over the years of my career at NCAT, the Asphalt Institute, and TRBA, was that cities and counties typically don't have a connection to the cutting edge research that's out there—we go to all of these conferences, but that doesn't always trickle down," Mike explained. "NCAT started out as a part-time student job, but it propelled me down a career path of asphalt pavements. I believe that NCAT is the leader in the industry as far as technology and what's going on in the asphalt world, and I was able to be right there at the heartbeat of it. It's priceless in how it built the foundation of my whole career."
Mike and his wife Alisha have three sons and one daughter. All three boys play football at Tennessee Tech. Seth and Cole are majoring in mechanical engineering, while Jake is studying civil engineering with an Army ROTC scholarship. Isabella is a senior in high school and competes in track. Mike and his family are active in their church, including hosting a Bible study for football team members while the boys were in high school, as well as embarking on a recent mission trip to Peru.
Chris Jones

Chris and Courtney Jones with their daughters Grace-Anne and Emma Caroline.
Chris Jones
Chris Jones grew up in the Florida panhandle, and his father worked with Couch Construction, an asphalt contractor in Dothan, Alabama. Chris chose Auburn because he wanted to work at NCAT while studying civil engineering.
"I am very grateful for the good friends and contacts I made while working at NCAT, as well as meeting my wife there," said Chris.
While at Auburn, Chris worked for Couch Construction during summer breaks, and he took a position there when he graduated in 1994. At Couch, which was later acquired by APAC, Chris learned all aspects of asphalt construction—materials and mix design, quality control, estimating, and project management. In 1999, he was assigned as the project superintendent for the initial construction of the NCAT Test Track, which was completed in the summer of 2000.
"The Test Track was the most challenging and rewarding construction project of my career," said Chris. "It would have been impossible to complete successfully without the excellent team of people involved: Ray Brown, Buzz Powell, and Mike Huner at NCAT; Gordon Bigham and Tony Davis with Volkert; Skip Powe with ALDOT; my team from APAC (Randy Watkins, Ed Crews, Tim Sexton, Buster Hicks, Keith Kirkland, Earl Russell, Sam King, and Jimmy Strain); as well as numerous other top-notch personnel from NCAT, FHWA, and state DOTs."
After leaving APAC in 2005, Chris worked in estimating and project management with Wiregrass Construction. He also served as a member of the NCAT Applications Steering Committee during that time.
Since 2015, he has been a project manager for Ozark Striping Company, Inc., in Ozark, Alabama. He assists with estimating and is responsible for scheduling permanent striping projects across Alabama and the Florida panhandle for the DOT, counties, and cities, as well as maintenance striping projects in Georgia. He is also a member of the board of directors for the Alabama Road Builders Association.
Chris and his wife Courtney, who assists with technical writing for NCAT, have two daughters. Grace-Anne is a junior in high school, and Emma Caroline is in first grade. He has been active in church ministry through the years, serving as a deacon and youth Sunday school teacher, coordinating outreach for an adult Sunday school class, and preaching on two mission trips to Guyana.