College of Engineering / Research / Centers / Stormwater Research Facility / Research
---
Research
The Stormwater Testing Facility has completed a variety of research projects. This page highlights recently completed and ongoing projects.
Sediment Basins
Sediment basins are used to temporarily detain sediment-laden stormwater prior to leaving a construction site to facilitate sediment capture. Using lessons learned from construction site sediment basin studies, the stormwater lab operates two large-scale sediment basins that allow researchers to perform controlled tests to improve and evaluate the performance of various treatments and configurations employed within a sediment basin.
Flocculants
Flocculants facilitate the process of coagulation and flocculation of very fine suspended soil particles (i.e., clay and silt) when the removal rate of suspended sediment needs to be increased beyond the ability of simple gravitational sedimentation. Our researchers are evaluating best practices for the passive application of flocculants on construction sites to enhance the performance of traditional erosion and sediment control practices.
Rainfall Simulators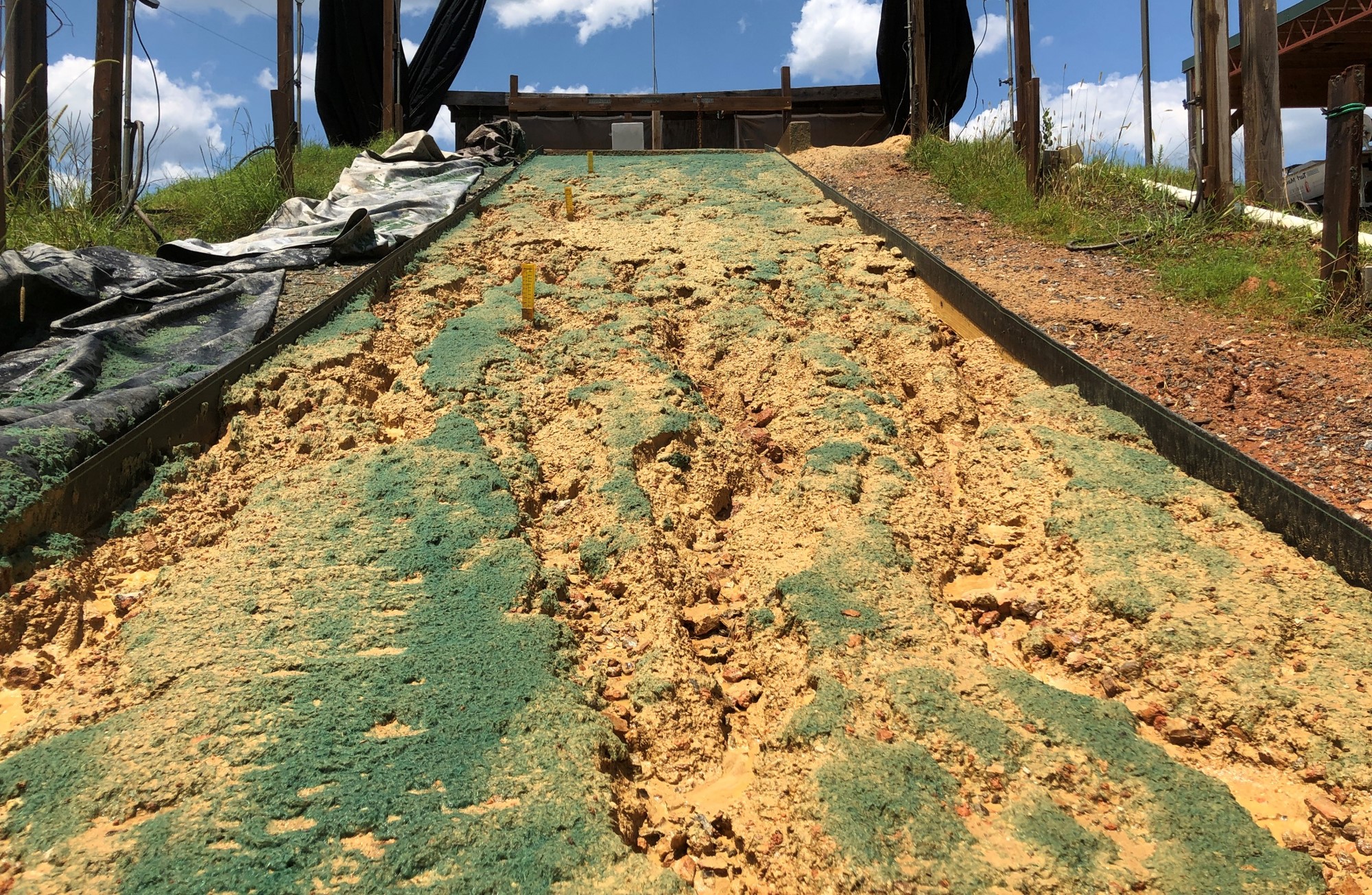 The stormwater lab has 13 rainfall simulators build on 3:1 and 4:1 slopes. The simulators are built on 40 ft x 8 ft plots consisting of clay, loam, and sand soils. Rainfall simulators are used to evaluate various erosion control practices that are used to protect slopes from rainfall-induced erosion.
Sediment Barriers
Sediment barriers are used to treat sheet flow runoff by removing sediment primarily through sedimentation and, to a lesser degree filtration. The stormwater lab has the capability of evaluating sediment barriers at full scale using a 20 ft wide test apparatus.
Inlet Protection
Storm drain inlet protection practices minimize sediment transport by temporarily impounding runoff before entering storm drain inlets, allowing suspended sediment to settle. The Stormwater Lab has two full-scale apparatuses to evaluate inlet protection practices for highway median applications and for curb and gutter applications. Evaluations have been performed to gain insight to the performance, durability, and maintenance needs of inlet protection practices. Evaluations included enhancement of installation methods for commonly employed practices. Test parameters were designed to mimic expected field conditions, allowing researchers to improve the installation of current practices and evaluate performance.
Check Dams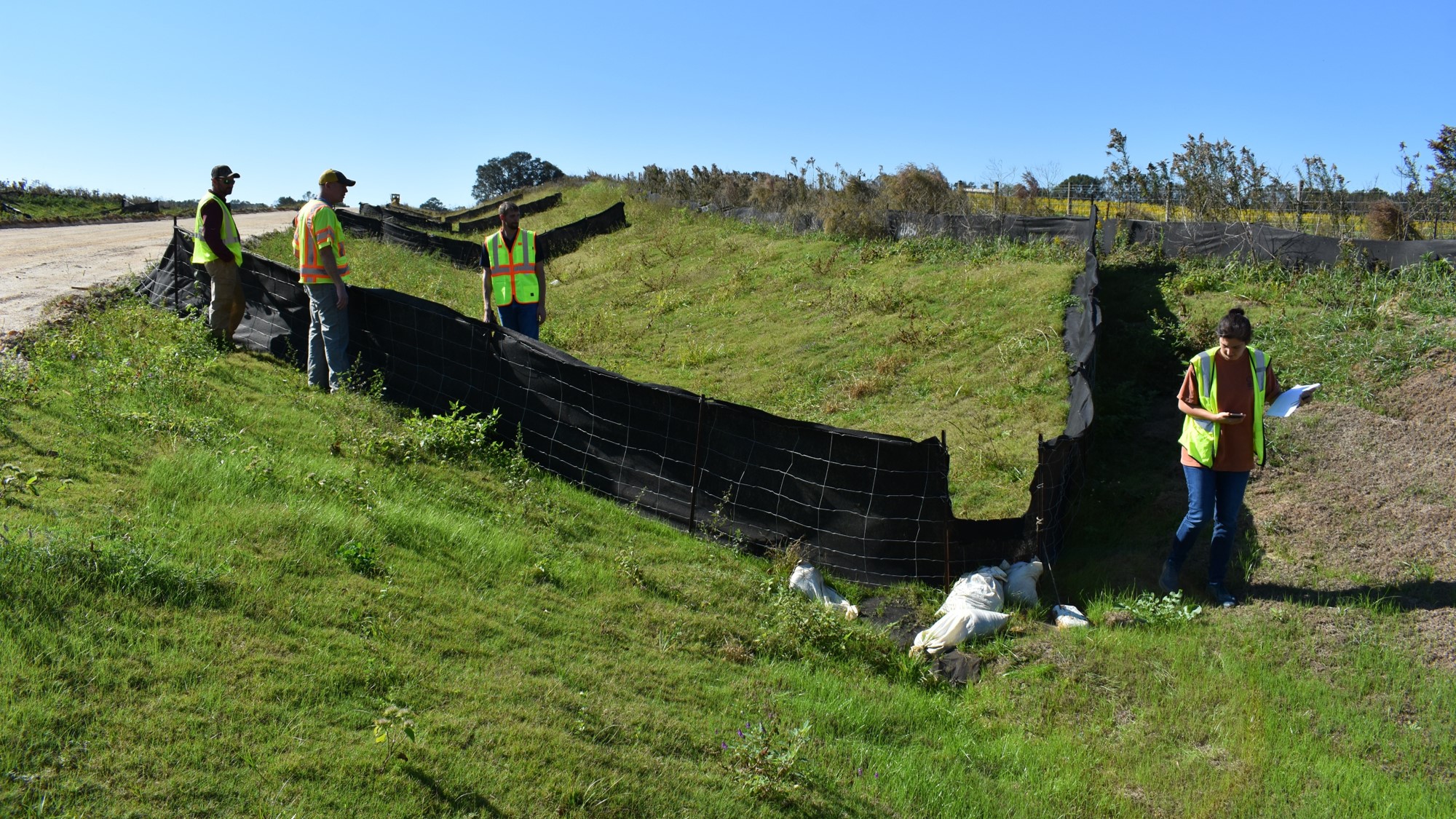 Check dams are used throughout highway construction to facilitate ponding and reduce velocity within channels to minimize erosion. Proper installation is required for these practices to perform as intended. Research studies have been conducted to evaluate the performance of various practices and to optimize installation methods to enhance performance.
UAV Based Inspections
Unmanned aerial vehicles are remote sensing tools capable of acquiring high resolution spatial and sensing data that can assist in site inspectionsof stormwater practices on construction sites. Our researchers have performed studies on active construction sites using commercially available UAVs to assess applications and capabilities of enhancing the site inspection and construction monitoring processes.
Advanced Treatment Approach
Our researchers have evaluated theuse of advanced approaches, including lamella settlers and electrocoagulation, to enhance the performance of stormwater treatment technologies.