Society of Women Engineers (SWE)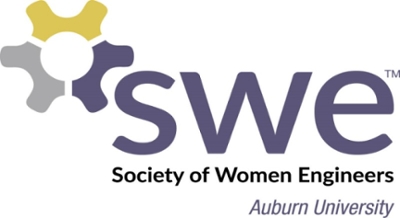 Purpose:
For more than six decades, the Society of Women Engineers has given women engineers a unique place and voice within the engineering industry. The Auburn SWE chapter is centered around a passion for our members' success and continues to evolve with the challenges and opportunities reflected in today's exciting engineering and technology specialties. 
Website:
https://auburn.collegiatelink.net/organization/SWE
Meetings:
Our meetings are advertised through our mailing list. The room varies based on event type, but typically meetings are on Tuesdays and Thursdays in Shelby 1124. We have one Lunch and Learn and one or two meetings per month.
Office Location:
Professional Engineering Organization Suite Brown-Kopel 0117
Shop Location:
Projects, outreach, competitions, conferences, etc.:
All of SWE's activities are for the purpose of providing a social and professional support network for female engineering students. For students' professional development we provide face-to-face time for students to learn about all kinds of engineering industries from the companies themselves, resume workshops run by hiring managers straight from industry, and mock interviews hosted by HR managers. SWE has a close partnership with 100+ Women Strong, a group of successful Auburn female engineering alumni, who host Lunch and Learns with our SWE section. In these sessions, ladies from 100+ WS from various industries teach students about various topics from grad school to dressing professionally. Auburn SWE always has a significant presence at the annual SWE national conference.
Also, SWE participates in several different community activities from outreach to philanthropy. We take part in Big Event, AUDM, as well as volunteer at the Lee Country Humane Society. Many of our members actively volunteer with the College of Engineering at events such at PEAK, E-Day, and TEAMS. We also host several outreach events such at hosting a mini career fair of all the different engineering disciplines at one of the local middle schools to get the students interested in a career in engineering. A large event for SWE in the spring semester is Scouts in STEM, where the Girl Scouts of Southern Alabama can take part in various STEM activities on campus. 
| | | |
| --- | --- | --- |
| 2023 Members | | |
| 2023 Officers | | |
| Julia Menzel | President | |
| Charley Golden | Vice President | |
| Robin Weaver | Treasurer | |
| Madison Dutton | Secretary | |
| Paige Coté | Corporate & Alumni Relations Chair | |
| Anna Kate Boles | Publicity Chair | |
| Krishna Patel | Campus Liaison | |
| Katherine Morrison | Social Chair | |
| Forrest Ann Watson | Outreach, Fundraising & Philanthropy Chair | |
| Riley Calhoun | Membership Chair | |
| Madison Champion | Webmaster | |
| Katherine Rush | Historian | |
| Rebecca Turochy | Assistant Executive Chair | |
| Karen Nix | Graduate Advisor | |
| Dr. Cheryl Seals | Faculty Advisor | |
Contacts:
President/Captain:
Julia Menzel
jem0134@auburn.edu
E-Council Rep:
Madison Dutton
mld0078@auburn.edu
Advisor:
Dr. Cheryl Seals
sealscd@auburn.edu
---
Category: Professional,
Related Major: All Majors