Outdoor Civil Engineering Learning Lab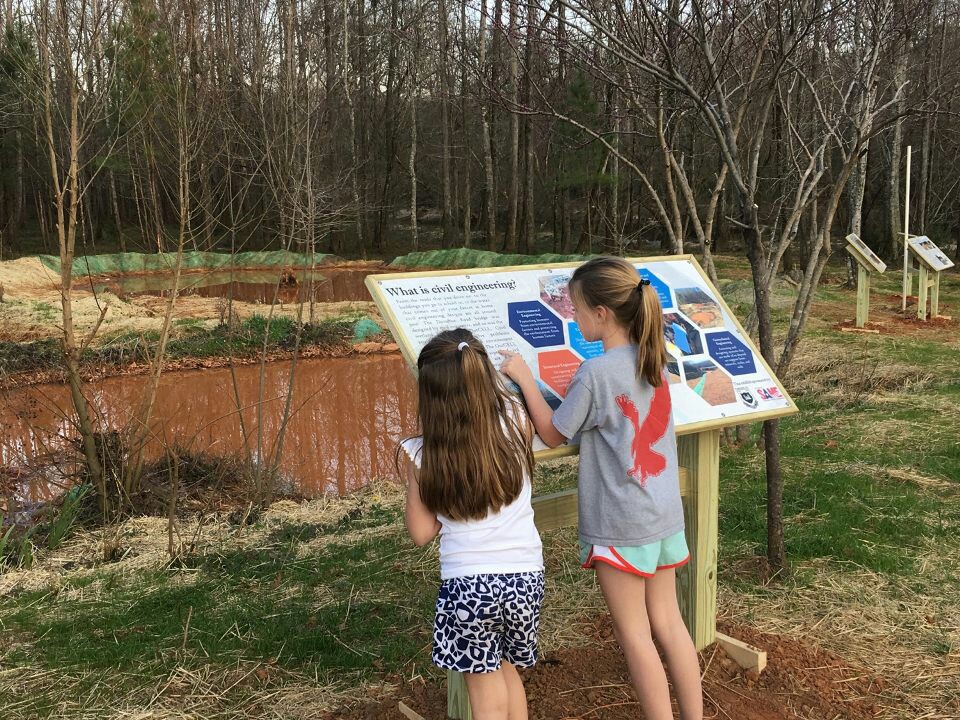 Would you like to hold a day of engaging and exciting educational activities at the OutCELL? Our student team is happy to discuss lesson plans with you that will meet the specific goals of your group. We welcome classes, camp groups, scout troops, and any other groups that wish to spend a day learning about Civil Engineering in the natural beauty surrounding the Sougahatchee Creek! Check back for sample lesson plans as well as a list of educational materials that can be checked out through our ASCE chapter.
OutCELL Chairman
If you would like to learn more about the OutCELL please contact Melanie Monaghan, President.
The Auburn ASCE service team wanted to provide an educational asset to the Auburn community that would be available year-round and free of charge to classes, scout troops, camps, and to the general public. To fulfill this need, the team designed and constructed the Outdoor Civil Engineering Learning Lab (OutCELL), a 0.75 acre water front facility which features educational stations intended to appeal to students of all ages as well as a constructed wetland that serves both functional and educational purposes. To maximize the OutCELL's exposure, our team collaborated with the City of Auburn Parks & Recreation Department to incorporate our educational center into a prime location at the trailhead of the future Sougahatchee Greenway/Blueway, a system of bike and kayak trails along the Sougahatchee Creek.
The OutCELL features eleven permanent educational displays designed to engage visitors in lessons on various disciplines of civil engineering, specifically highlighting elements of environmental, construction, structural, hydrology, materials, and transportation engineering. In addition to these educational displays, the OutCELL also features a stormwater treatment wetland system that serves both educational and functional purposes. Not only does the three-tiered stormwater treatment system provide an ideal exhibit for lessons on erosion control, water quality, watershed hydrology, and low impact development, but it also serves to actively improve the quality of stormwater draining from 2.3 acres of contributory drainage area into the Sougahatchee Creek. The wetland was deliberately placed to receive drainage from an adjacent unpaved road which previously discharged turbid stormwater through the site, impairing the Sougahatchee Creek.
We are greatful for our partners and sponsors: