Aerospace alumnus named Earl Pearce Professional of the Year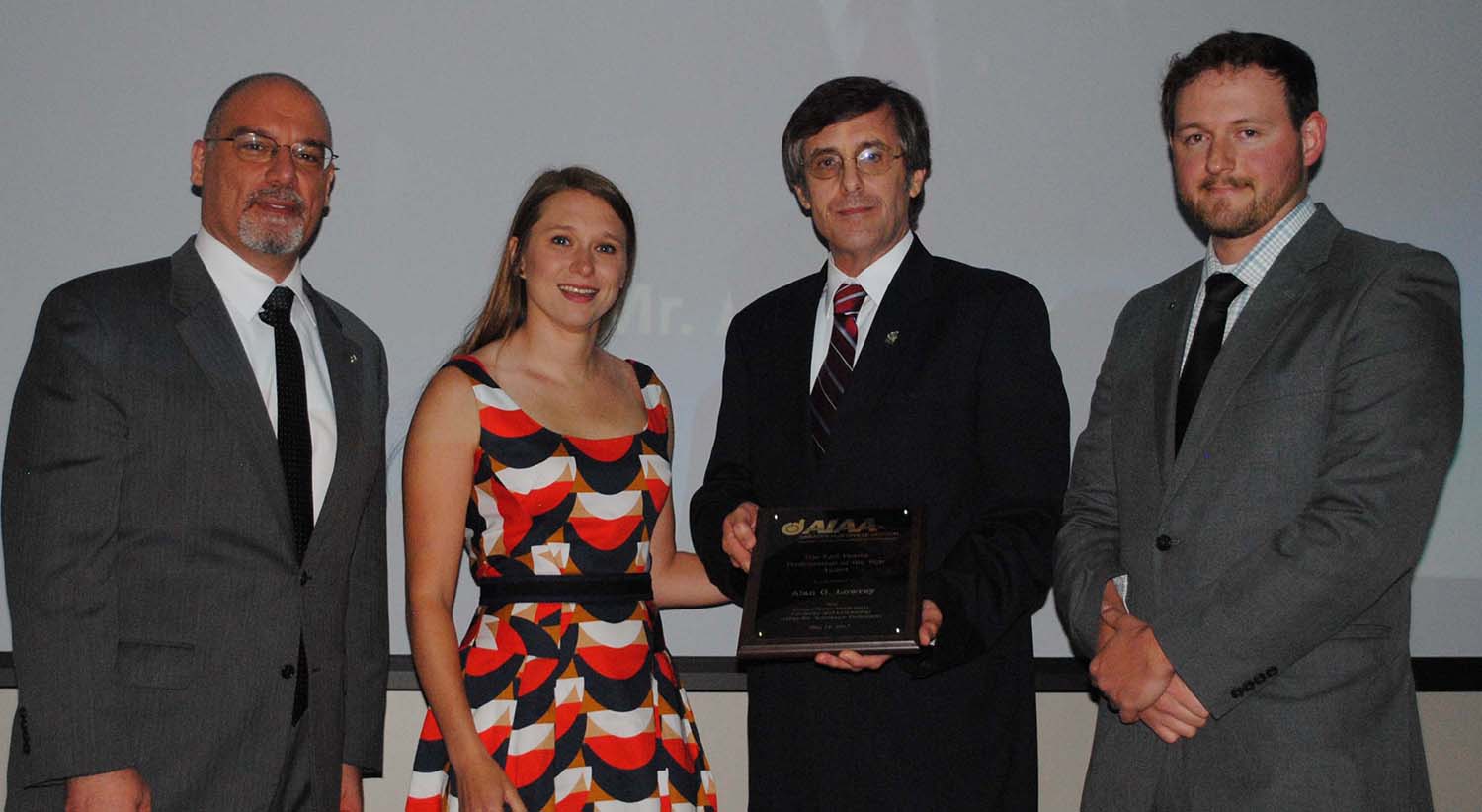 From left: Joe Majdalani, Francis Chair professor in the Department of Aerospace Engineering; Rebecca Smolin, Earl Pearce's granddaughter; Alan Lowrey, Earl Pearce Professional of the Year award recipient; and Brandon Stiltner. chair of the American Institute of Aeronautics and Astronautics Greater Huntsville Section.
G. Alan Lowrey, senior systems and integration engineer with Jacobs Technology/Engineering and Science Services and Skills Augmentation group at the NASA Marshall Space Flight Center, was recognized with the 2017 Earl Pearce Professional of the Year by the Greater Huntsville Section of the American Institute of Aeronautics and Astronautics.The award was presented in recognition of extraordinary dedication, creativity and leadership while engaged in professional work or activity within the aerospace community. Lowrey, '78 and '80, respectively, in aerospace engineering, was nominated for his leadership, passion and dedication to promoting the aerospace community, including his support of AIAA students and young professionals.
Lowrey has more than 30 years of experience supporting NASA and Department of Defense programs, with an emphasis on launch vehicle and spacecraft systems integration, mission planning and operations. He is an AIAA associate fellow, a past chair of the AIAA Greater Huntsville Section and a past member of the AIAA Board of Directors as the Southeast regional director.  He serves on numerous AIAA committees, and participates in professional mentoring programs.  He also serves as an AIAA volunteer coordinator and judge for the North Alabama Regional and Alabama Science and Engineering fairs. 
The award is named after retired Cmdr. Earl Hewitt Pearce, a U.S. Navy fighter pilot who worked within the aerospace industry for more than 50 years.  
Media Contact: ,
smithmp@auburn.edu
, 334.844.2220
Joe Majdalani, Rebecca Smolin, Alan Lowrey, Earl Pearce