Auburn awarded $1.5 million for testing of next-generation buses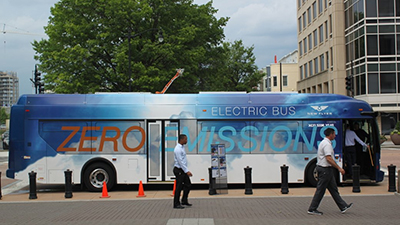 Photo credit: U.S. Department of Transportation 
The Federal Transit Administration has awarded Auburn University $1.5 million to test and assess components used in low or no-emission public transit buses.
Auburn was one of only two universities selected for competitive funding in the federal Low and No-Emission Component Assessment Program, also known as LoNo-CAP. Auburn and Ohio State University will compete for an additional $12 million in funding during the next four years.
Auburn's LoNo team is composed of an interdisciplinary group of researchers in the Samuel Ginn College of Engineering.
"Auburn's selection for this competitive project is a testament to the intellectual capital of our faculty and quality of our research facilities," said Christopher B. Roberts, dean of engineering. "We are committed to staying at the forefront of emerging areas of research and advancing new technologies for the benefit of society."
The LoNo-CAP program allows for the voluntary testing of components used in low or no-emission transit buses. The testing will include an unbiased assessment of the reliability, integrity and efficiency of bus components, such as battery packs, fuel cells, motors, HVAC systems and other integral components.
In addition to the testing of individual components, Auburn researchers also hope to tap into the on-board computers of their customers' buses in order to monitor and analyze the components' long-term performance data.
"With the expertise of our faculty, Auburn's work on this project will help improve reliability and performance of low and no-emission bus components, thereby driving down costs for operators and passing those savings on to consumers," said Bruce Tatarchuk, the Charles E. Gavin III Professor of chemical engineering and the project's principal investigator.
As part of the project, Auburn will collaborate with the Center for Transportation and the Environment to form an advisory panel and develop industry relationships and with Test Devices Inc. to develop testing protocols.
The LoNo-CAP program is a cost-sharing project in which customers, such as bus manufacturers or municipal transit authorities, will provide some funding for the testing of components and the Federal Transit Administration will match the costs. 
Media Contact: ,
chris.anthony@auburn.edu
, 334.844.3447