Evans named department chair of industrial and systems engineering
John L. Evans has been selected as chair of the Department of Industrial and Systems Engineering at Auburn University. His appointment begins Aug. 16, according to an announcement from Christopher B. Roberts, dean of the Samuel Ginn College of Engineering.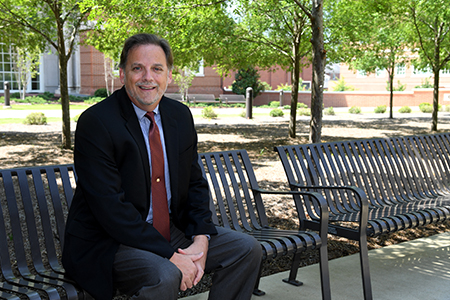 John L. Evans
"I look forward to the opportunity to serve this outstanding department as its chair," said Evans, who holds the position of Charles D. Miller endowed chair. "We have a strong faculty, talented students and outstanding facilities thanks to the leadership of our past department chairs. I hope to build on their record of excellence by expanding our research footprint and academic programs to address the challenges in this growing and evolving field of engineering."
Evans joined the Auburn Engineering faculty in 2001, following a 17-year career in the automotive engineering industry with Chrysler Corp. and DaimlerChrysler in Huntsville. He earned a bachelor's degree in electrical engineering from Auburn in 1984 as well as master's and doctoral degrees in industrial and systems engineering from the University of Alabama in Huntsville in 1987 and 1991, respectively.
"John brings a unique blend of experience in private industry and higher education that will serve the department well," Dean Roberts said. "I am confident that he will provide strong leadership and develop innovative ideas to build on the department's solid foundation."
Evans said he wants to expand the department's research in systems engineering, particularly with collaborative opportunities in Huntsville, and explore potential research areas in health care, energy and computer systems. Evans said he also looks to expand the Southern Alliance for Advanced Vehicle Manufacturing and build on the success of the occupational safety and ergonomics program by increasing its national prominence.
Evans is interim director of the Thomas Walter Center for Technology Management and associate director of the Center for Advanced Vehicle and Extreme Environment Electronics. He was recognized as one of the University of Alabama in Huntsville's Distinguished Young Engineering Alumni in 2000 and as a luminary of the Surface Mount Technology Association in 2009.
Evans will succeed Jorge Valenzuela, who has been the department's chair since 2011.
"I am hugely appreciative of Jorge's service and steadfast dedication to advancing the department over the past five years," Roberts said. "I wish him much success as he returns to his teaching and research programs full time."
Media Contact: ,
chris.anthony@auburn.edu
, 334-844-3447