2012 Pavement Test Track Conference
2012 Pavement Test Track Conference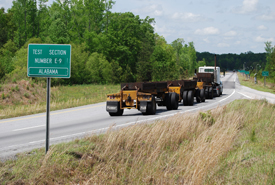 The fourth NCAT Pavement Test Track Conference will be held February 28-29, 2012, at the Auburn University Hotel and Dixon Conference Center in Auburn, AL. The two-day meeting will highlight the latest research findings from NCAT's 1.7-mile test track. Tour the track and hear researchers and DOT engineers share how track research is translating into implementable findings. Click here to see the finalized 2012 Test Track Conference agenda.

Hotel Information: A block of rooms has been reserved at the Auburn University Hotel and Dixon Conference Center at a cost of $109.00 per night, per room. These rooms are available on a first-come, first-serve basis. Please make reservations directly with the hotel by calling (334) 821-8200 or by visiting the hotel website. Mention you are attending the conference to ensure that you receive the special rate.
Registration and Exhibition: You may register online and submit your payment online, or you may print a registration form, fill it out, and mail it to us. The registration fee is $200 and includes meals and a reception. This year, participants also have the opportunity to showcase their materials with a tabletop exhibition that will be displayed throughout the conference. The hotel will provide a table, tablecloth, two chairs, and, if needed, electrical power for each display. The exhibition fee is $250 in addition to the registration fee.

The exhibition layout in the hotel conference area will be set up in one of two areas, depending on how many exhibitors register. If there are 10 or fewer exhibitors, they will be set up in the conference foyer just outside the ballrooms and meeting rooms. If there are more than 10, exhibitors will be set up in Ballroom B.

For more information about the conference, please contact Buzz Powell at (334) 844-6857. For more information about registration and exhibitions, please contact Vinnie Hester at (334) 844-7305.
Online Registration Form

Online Exhibitor Form (Note: You must complete the Online Registration Form and fee payment in addition to the Online Exhibitor Form and payment.)

Printable Registration and Exhibition Form