Food and Biological Engineering
Biological engineering involves applying biosystems engineering principles to the solution of problems involving biological organisms and their environments. Biological engineering combines knowledge of process design with biological principles to develop the processing methods to produce new products from bioresources. Biological engineering develops microbiological processes to produce foods, biochemicals, enzymes, and pharmaceuticals. Biological engineering develops basic processes that occur at the genetic or cellular level and then deploys these processes at industrial scales.
Food engineering involves applying engineering principles to basic food science problems and scaling up these processes in a safe, cost-effective manner for efficient manufacture and distribution. This focus area will include work in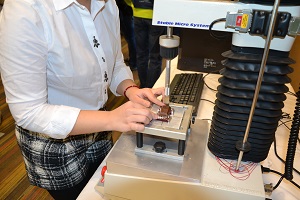 bio-sensors, food safety, and bio-based products development. New initiatives in this focus area will lead the Ginn College of Engineering and the College of Agriculture into high visibility research and outreach that can make significant impacts on the Alabama economy.
Faculty working in this area include:
Current projects in this area include:
Rheological properties of food and biological materials
Postharvest handling and storage of bioenergy crops
Densification of bioenenergy crops
Compaction behavior, pelleting and utilization of solid animal manure
Demonstration of pellet furnace and use of biofuel pellets as energy efficient fuel source
Last Updated: May 05, 2016