Student Info & Senior Design
Biosystems Engineering students are among the best at Auburn. They receive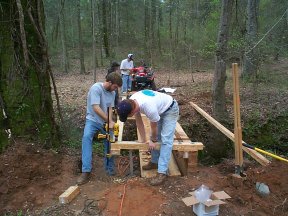 their share of awards, scholarships, and fellowships for their academic performance. Our students are able to work on rewarding design projects such as Camp Okkali, a proposed base camp for an equestrian trail in the Tuskegee National Forest.
Students also receive personal attention from the faculty and staff in the Biosystems Engineering Department. Our class sizes allow closer interaction between the professors and students and each professor provides academic advising for a small group of students. Students are also exposed to the latest technology by working on ongoing research and outreach projects being conducted by Biosystems Engineering faculty.
There is an active student branch of our professional society, ASABE, which is the society for engineering in agricultural, food, and biological systems. This group fosters professional activities for students, such as attending regional and national meetings, and competing in design national competitions.
Check out employment opportunities for students. Industry, government, and university employers frequently contact us in search of young engineers.
Related Links
Last Updated: Jun 16, 2016