Quarter Scale Tractor Competition
Auburn team succeeds in tractor design competition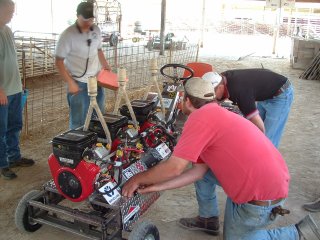 Auburn's quarter scale tractor design team placed 13 at this year's ASABE International Quarter Scale Tractor Design Competition in Peoria, Ill. This is the team's highest finish at the competition, which they have been participating in for the past four years.
"As always, the competition was tough," said Steve Taylor, head of the Department of Biosystems Engineering. "There were some fairly significant rule changes that made for a wide variety of design philosophies."
In the performance events, Auburn's tractor pulled 170 ft in the 1300 lb weight class. The team also received high marks on their engineering design report and finished ahead of some of the top biosystems engineering programs in the nation, including Texas A&M, Penn State and Oklahoma State.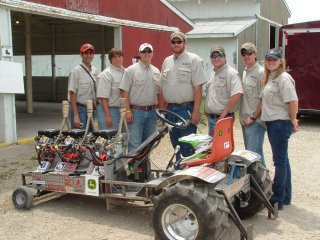 The Auburn team was made up of graduate students, Brooks Butler, Corey Kichler and Jonathan Melton, and seniors Jennifer Lofty and J.P. Sides. Tim McDonald is the team's faculty advisor and Christian Brodbeck also advises the team.
Last Updated: Feb 09, 2011