On Campus Classrooms
There are two primary classrooms located in the Tom Corley Building (Rooms 302, 307, and 103).  These classrooms have a total of 2,201 square feet of floor space.  Rooms 302 and 307 and the student computing laboratory are equipped with multimedia teaching podiums (with computers, document cameras, and video players) and overhead video projectors.  Room 103 is equipped with an overhead video projector.  The multimedia equipment is used for Powerpoint notes and demonstrating various engineering software during lectures.
Student Design Studio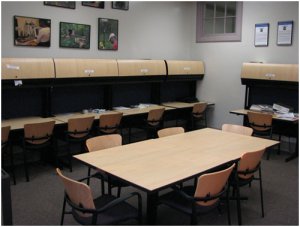 Students have the opportunity to study and interact with other students and faculty in what is referred to as the Student Design Studio.  This room, which has 318 square feet, has study areas and reading areas for BSEN students.  The room was renovated in 2007 using funds from the Auburn University Concessions Board, the Dean of the College of Engineering, and the Biosystems Engineering Department. The intent of the renovation was to convert what was a traditional reading and study room into an area where students in the capstone design course could work together, conduct team meetings, and leave their reference material in a secure location. Renovation activities included installation of a new white board, repair of flooring and installation of carpet, installation of new study carrels where students could store design project reference material, installation of new conference tables, installation of comfortable chairs for reading, and painting of the room. The room is open 24 hours per day and is used heavily during all semesters with particularly heavy use by students in the senior capstone design course.
Computing Laboratory (Corley 314)
Departmental computing facilities for undergraduate students are housed in Room 314 and are one of the primary means of helping students learn to use modern engineering and communication tools, and to analyze critically scientific data and conduct engineering analysis.  The computing lab was moved from a previous location between the Fall 2003 and Spring 2004 semesters to provide additional space for more computers.  The laboratory was renovated in the 2007-2008 academic year.  This 736 square foot laboratory has 20 computer workstations and  printers.  The computers were replaced during the fall of 2015.  The room is equipped with ceiling-mounted projectors and multimedia equipment.  A programmable electronic card reader door lock allows the department to send a list of authorized student and faculty users of the lab to a central university access control office, which then allows their entry into the room.  Students in BSEN courses have access to the computing lab 24 hours per day using their student ID card.  Students in all BSEN courses use this facility.
The computers are equipped with the standard Microsoft Office software products.  Computer-aided design software includes AutoDesk's Inventor parametric modeling software, WoodWorks Design Office suite, and FluidSim hydraulic and pneumatic simulation software.  Geospatial software includes Trimble Pathfinder Office and ESRI ArcView and ArcGIS.  Other software, such as RUSLE, WEPP, and AGNPS, is available for hydrologic analysis and erosion prediction.
A large digitizing table, wide format inkjet plotter, and color laser printer are currently located on the second floor of the Corley Building in the area where faculty offices are located.  Students in the computing laboratory have network access to print to these additional printers during regular office hours.  This laboratory is currently adequate for serving the needs of the Biosystems Engineering program and is positioned to continue to grow with the program.
Last Updated: May 04, 2016