Auburn aerospace engineering well represented at AIAA Greater Huntsville Section awards
Published: May 22, 2023 1:20 PM
By Joe McAdory
Three Auburn Engineering students, two alumni, a faculty member and a future student earned key honors by the American Institute of Aeronautics and Astronautics Greater Huntsville Section (GHS) at its annual awards dinner on May 20.
Colin Bamford, who earned a degree in aerospace engineering this spring, was named Undergraduate Student of the Year. Cody Shelton, who is pursuing a PhD in aerospace engineering, was named Graduate Student of the Year. Charles Smith, a rising sophomore in aerospace engineering, earned the 2022 Robert L. Sackheim Scholarship. Jordan Holland, a recent graduate at Sparkman High School in Harvest, Alabama, will begin her pursuit of an aerospace engineering degree this fall and was named the 2023 Robert L. Sackheim Scholarship winner.
Kevin Albarado, who earned bachelor's and master's degrees in aerospace engineering in 2010 and 2016, is the Ed Pruett Young Professional of the Year. Jayme Allgood, who earned a bachelor's degree in aerospace engineering in 2009, was named the Earl Pearce Professional of the Year.
"At Auburn University, we work hard to deliver a world-class education in aerospace engineering and take great pride in Auburn's significant contributions to the aerospace profession, particularly in the Huntsville region," said Brian Thurow, aerospace engineering department chair and the W. Allen and Martha Reed Professor. "We are delighted to see the recognition and support provided by the AIAA Greater Huntsville Section to our alumni, who are clearly developing into leaders in the area, as well as our students who we expect to be leaders in the future."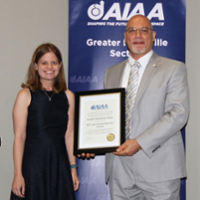 Professor of aerospace engineering and Francis Chair of Excellence Joe Majdalani serves as the GHS director of honors and awards.
"This was a very competitive selection process, with an average of 3.5 nominees per category," said Majdalani, who was recognized for his third time winning the Abe Zarem Educator Award, a national honor presented earlier this year. "The fact that Auburn alumni, faculty and students tend to generally place well in this annual competition reflects Auburn's highly competitive engineering ranking in the state and their strong presence in Huntsville. As I understand, roughly one-third of the engineers in Huntsville have Auburn degrees."
Auburn Engineering is also represented on the AIAA Greater Huntsville Section Council by Roy Hartfield, Walt & Virginia Woltosz Professor of Aerospace Engineering, who serves as the Section's director of public policy. Hartfield will be presented the 2023 AIAA Aerodynamics Award at the AIAA Aviation Forum June 12-16 in San Diego.
Bamford enjoyed a decorated academic career at Auburn, serving as vehicles structures sub-team lead for the Auburn University Rocketry Association (AURA) and serving as a 2022-23 Undergraduate Research Fellow for his work, "Mitigation of Vertical Gusts by a Red-Tailed Hawk," under the tutelage of Assistant Professor of Aerospace Engineering Vrishank Raghav.
"I was honored to be nominated by the professors in the aerospace engineering department, but I did not expect to ultimately receive the award," said Bamford, a native of Birmingham. "Receiving this award means a lot to me. It feels great being recognized for my work and achievements over the past four years. I also want to thank Dr. Raghav and Dr. (Eldon) Triggs, who provided me opportunities to explore my interests through undergraduate research and rocketry, respectively."
Bamford's AURA role included designing and constructing the air frame components of the rocket. "Unlike most rocketry teams, AURA constructs its rockets from scratch out of raw materials," he added. "Leading this team has given me a lot of experience in time and personnel management. We have only a few months to construct a rocket and develop the technical writings, so organizing the team to finish on time is paramount. Assisting with technical writings led me to teach myself how to use SolidWorks and other computer modeling software, which is attractive to many employers."
Bamford hopes to parlay his Auburn education into a job among the U.S. Air Force civilian service personnel at Wright-Patterson Air Force Base near Dayton, Ohio, and eventually pursue a master's degree.
"My career goal is to work in propulsion research and development as part of a company," he added. "I want to help develop new methods of space propulsion for future development and exploration of the solar system."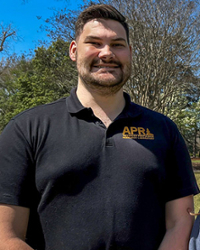 Shelton, a 2023 Summer Department of Defense Science, Mathematics, and Research for Transformation (SMART) International Internship Cohort recipient, received his bachelor's degree from Texas A&M in 2019 and master's degree from Auburn in 2020, both in aerospace engineering. He was awarded his master's degree in applied mathematics in 2023 and is presently pursuing his Ph.D. in aerospace engineering by advancing acoustic instability theory and applying it to swirl-driven rocket engines.
"Winning the AIAA Greater Huntsville Section Graduate Student of the Year award is an incredible honor and recognition that makes all the hard work I have put into research and service this past year truly worthwhile," said Shelton. "I am deeply grateful to my advisor, Dr. Joe Majdalani, and my research team in the Advanced Propulsion Research Laboratory for their unwavering support and mentorship throughout my academic journey. I also want to thank Auburn University and the College of Engineering for providing me with exceptional opportunities to develop my skills and pursue my passion for aerospace engineering."
Shelton, originally from Austin, Texas, has co-authored the research paper, "Different Perspectives on predicting the thermoacoustic energy conversation response in a Rijke tube" with Majdalani.
"This award is a testament to the quality of research and education at Auburn University, and it inspires me to continue striving for excellence in my field," he added. "I am committed to pursuing a career that combines research, teaching, and mentoring, and to contributing to the advancement in propulsion and combustion applications. I am truly grateful for the invaluable experiences and opportunities that Auburn University has prepared me for during my graduate studies, such as the DoD SMART scholarship and international internship, and I am excited to see what the future holds."
Smith, a member Auburn's AIAA student chapter, is a member of the National Honor Society and will volunteer as a shift manager at the Auburn University Food Kitchen this fall. He has been an active member of the Boy Scouts of America since 2011 and was the youngest member to hold the office of senior patrol leader as a second-class scout. He has 31 merit badges and completed more than 200 hours of community service on his journey to Eagle Scout.
"This award is special to me because I love all the ideals of NASA, and I hope to work there one day," Smith said. "I will strive to uphold the ideals and continue the vision of Dr. Robert Sackheim through my continued education at Auburn and affiliation with AIAA."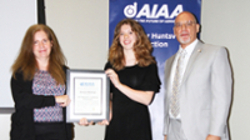 Holland, who plans on participating in the Auburn University Rocketry Association and Auburn University Marching Band, plans to focus on aeronautical defense. She is vice president of Sparkman's Physics Club and is part of the debate club, tutoring club, National Honor Society, National Spanish Honor Society, and Mu Alpha Theta.
Holland hopes to begin working in an internship or co-op beginning with her sophomore year at Auburn.
Albarado, who studied rocket motor simulation, numerical optimization and machine learning in graduate school at Auburn under Dr. Roy Hartfield, was given the opportunity to apply his education into a career at Dynetics, a subsidiary of Leidos, in Huntsville. There, Albarado runs the autonomy and artificial intelligence (AI) branch within Dynetics' Missile and Aviation Systems Division and serves as chief engineer for the contracted Defense Advanced Research Projects Agency (DARPA) Air Combat Evolution Program. He is also the reinforcement learning technical lead for Leidos' Artificial Intelligence and Machine Learning Accelerator Group and principal investigator for a variety of AI-related internal research programs.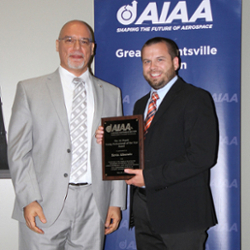 "I've had the opportunity to work at Dynetics with quite a few Auburn University alumni, most notably Tim Keeter (program manager, missile and aviation systems) and Mark Miller (vice president for missile and aviation systems)," said Albarado. "They gave me numerous opportunities to apply machine learning/AI to aerospace applications. Here, we apply modern machine learning and reinforcement learning technology to solve numerous aerospace problems."
Albarado, who met his wife, Casey, another aerospace engineering alumnae at Auburn, credited the university for his career success. "I don't think I'd be where I am today without the opportunities I had at Auburn," he said. "All of the faculty, especially Dr. Hartfield, provided an atmosphere for students to excel. Undergraduate research opportunities and extracurriculars such as Design Build Fly and AURA provide students with practical, hands-on experiences that are priceless."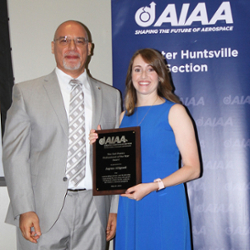 Allgood, who later earned a master's degree in aerospace engineering from Purdue, serves in a variety of capacities at Dynamic Concepts, Inc. at NASA's Marshall Space Flight Center – namely making a positive impact on Artemis' Space Launch System (SLS). She is the lead for NASA's day-of-launch (DOL) I-load update (DOLIU) loads team for the SLS. In this role, she is the primary developer of the DOL vehicle load indicator software tool which predicts the integrated vehicle loads on launch day to verify acceptable structural loading for go, or no-go, determination.
Her additional responsibilities include coordination with DOLIU leadership at the Marshall Space Flight Center and Johnson Space Center, development of launch availability estimates, documentation and testing in compliance with requirements for NASA Class C safety critical software and personnel training.
During Artemis' launch, Allgood operated the DOL vehicle load indicator software on-console in a flight-critical role at NASA's Huntsville Operations Support Center, giving the "go" for SLS loads as part of the overall DOLIU "go" recommendation.
She has served on the SLS integrated vehicle ascent loads team for the past 12 years, performing analysis of static aeroelastic loads, gust, buffet, thrust oscillation, and maneuvering loads on SLS during its ascent from "tower-clear" through core stage separation.
"Growing up in the Huntsville area, I always knew I wanted to work for NASA or somehow contribute to human space flight," Allgood said. "Auburn was the place that really started me on that path to make those dreams a reality. Dr. David Cicci's orbital mechanics class was particularly compelling as it ultimately formed the foundation of my graduate work. After graduate school, I returned to the Huntsville area where I've worked on the SLS program for the past 12 years. I have had the opportunity to work closely with many Auburn engineers who have become great colleagues and friends. In fact, about half of our Huntsville team working the Artemis I Day-of-Launch were Auburn alumni. I hope that our work can inspire future generations to their own lofty pursuits, and that Auburn will continue to be there to help make their dreams a reality."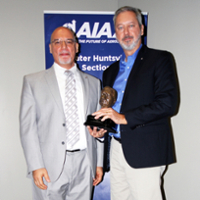 Though not in an awards-recipient capacity, Auburn Engineering was well represented by event keynote speaker Chris Crumbly. The executive director of the Institute for Enterprise Advancement and vice president for digital enterprise advancement at Victory Solutions, Inc. earned a bachelor's degree in aerospace engineering from Auburn in 1988 and followed that up with a master's degree in aerospace engineering in 1995.
Crumbly worked at NASA for 25 years, where one of his duties was managing the Space Launch System Program's Spacecraft/Payload Integration and Evolution Office at the Marshall Space Flight Center in Huntsville. He also served as special assistant to NASA's deputy administrator and senior space policy analyst at the White House Office of Science and Technology Policy.
Visit here to learn more about aerospace engineering programs and research at Auburn University.
Media Contact: ,
jem0040@auburn.edu
, 334.844.3447
Pictured, front row, left to right: alumnus and keynote speaker Chris Crumbly, Undergraduate Student of the Year Colin Bamford, Professor and Francis Chair of Excellence Joe Majdalani; back row, left to right: Sackheim Scholarship winner Jordan Holland, Sackheim Scholarship winner Charles Smith, Earl Pearce Professional of the Year Jayme Allgood, and Ed Pruett Professional of the Year Kevin Albarado.
Render