Two CSSE teams among Friday's Tiger Cage pitch competition finalists
Published: Mar 21, 2022 7:35 AM
By Joe McAdory
Software development within gaming and streaming platforms is the focus for two teams heading into Friday's Tiger Cage Student Business Pitch Competition finals. But can they win the hearts of 11 industry professional judges as they compete for a share of $54,000 in early-stage startup capital?
"Winning Tiger Cage would mean everything," said Jesse Stewart, a sophomore in computer science and software who serves as founder and lead developer for Toft by 2153. "The first-place prize of $25,000 isn't a lot of money to some people, but for me and my team, it means we can focus on development and get our product in the hands of our customers as soon as possible."
The final round begins at 9 a.m. inside Horton-Hardgrave Hall's Broadway Event Space and Theater.
In its eighth year and presented by the Harbert College of Business, Tiger Cage, likened to NBC's "Shark Tank," provides students with business plan development opportunities from mentors and seasoned entrepreneurs throughout the fall and spring semesters that culminate in quarterfinal, semifinal and final round live pitch competitions before judges.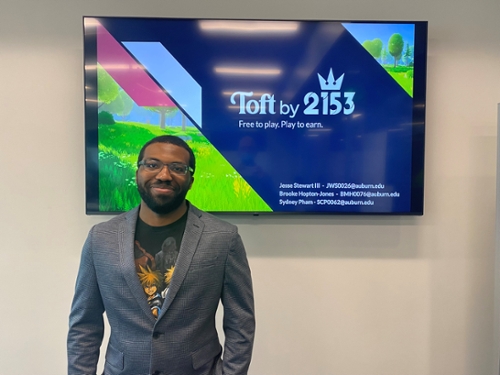 "It's amazing to watch these young entrepreneurs grow from our kickoff meeting in September, where most had raw business ideas and no pitch experience, to now where they have developed comprehensive business plans and strategies, and become seasoned pitch artists," said Lou Bifano, Director of the New Venture Accelerator who leads the annual Tiger Cage program. "Tiger Cage has a history of developing students' entrepreneurial skills and releasing them into the business world, where many are already flourishing."
Stewart is joined by teammates and fellow CSSE students Brooke Hopton-Jones, who focuses on game development, and Sydney Pham, who focuses on web development. Toft by 2153's product, Virgo, is a plugin that allows users to earn money playing their favorite video games.
"Developers can integrate Virgo into their games with just a few lines of code," Stewart said. "This gives them the opportunity to boost revenue, increase player satisfaction, and gain valuable data-driven insights into their players' in-game spending habits."
Emmett Deen, a 2019 CSSE graduate and co-founder of IGNTE, a platform that helps simplify showing sponsors or advertisements on live streams, while providing in-depth analytics.
"This tool is attractive to clients because it saves them time while providing them with more information on advertisement performance," said Deen, who focuses on product development and is joined on the team by co-founder Jacob Cordero, a student in business administration who focuses on marketing and sales. "This can be used to help win new sponsorship deals.
"Why is our company attractive? It's fully live and it's a new way of investing in gaming, or esports, without backing an organization or game studio. We will have high profit margins due to low running costs. Plus, the product was fully built by our team, and not outsourced."
Other competitors include Feature Finder (Zane Barbao, management, and Luke Matthews, professional flight management), a social music platform designed to revolutionize the music industry, and The Best Roping Dummy (Will Jordan, agricultural communications), an autonomous team roping training system that reduces the need for live cattle and improves practice capabilities.
Prize breakdown is as follows: $25,000 for first place, $12,000 for second place, $8,000 for third place, $5,000 for fourth place, a $5,000 legal services in-kind award sponsored by Burr & Forman, and another $4,000 special award sponsored by the Thomas Walter Center for Technology Management to be used for hardware/software prototyping.
Tiger Cage offers more benefits than cash prizes.
"The Tiger Cage competition has helped me refine the way I think about business models and market strategies," Stewart said. "Not only that, but the process has made me significantly better at identifying a truly useful product and crafting a powerful story to help the audience understand it. In all, Tiger Cage has made me better at fundraising than ever."
For Deen, the competition is about refinement and motivation.
"Throughout exercising our pitch capabilities, we have also found that our sales messaging has become more sound. Jacob and I love competition, so this added motivation helped us thrive in our day-to-day work," he said. "We are also much more prepared to raise a seed round and we believe our company is more solid thanks to the challenging questions we've been asked through the process.
"Being selected as the top startup from our school would mean the world to us. The actual prize money will be put straight into bringing on new clients since our product is already built, which I believe gives us a great chance at success. This should also give us a great opportunity to show investors what we are capable of with some financial backing."
Media Contact: ,
jem0040@auburn.edu
, 334.844.3447
Emmett Dean (left), a 2019 CSSE graduate, and Jacob Cordero, a student in business administration, co-founded IGNTE, a platform that helps simplify showing sponsors or advertisements on live streams.