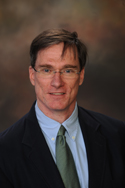 Fergus
Jeffrey W. Fergus, professor of materials engineering at Auburn University, has been named associate dean for assessment and graduate studies in the Samuel Ginn College of Engineering, according to an announcement from Christopher B. Roberts, dean. The appointment is effective Aug. 1.
Fergus joined the faculty at Auburn University in 1992 after he received a doctorate in materials science and engineering from the University of Pennsylvania and bachelor of science degree in metallurgical engineering from the University of Illinois. He also completed post-doctoral research at Notre Dame.
"Dr. Fergus is widely recognized as an advocate of student focused engineering initiatives, at both the undergraduate and graduate levels," Roberts said of the appointment. "He has also assumed a national leadership role in engineering accreditation as a member of the ABET Engineering Accreditation Commission executive committee."
In his role as associate dean Fergus will be responsible for managing the assessment and enhancement processes associated with all aspects of the College of Engineering's mission, Roberts explained. In addition to oversight of ABET and SACS accreditation compliance, Fergus will also coordinate the college's assessment activities with Auburn University's Office of Institutional Research and Assessment.
Fergus will also coordinate graduate-level activities on a college-wide basis to assure a superior educational experience for the college's graduate students. In addition to serving on the University Graduate Liaison Committee, he will also be involved in related university-level committees that focus on graduate study. Within the College of Engineering he will coordinate graduate planning across 11 curricula.
"I am honored to accept this position within the College of Engineering, and look forward to promoting continuous quality improvement to advance the missions of Auburn Engineering through engagement of faculty in effective and sustainable assessment processes, " said Fergus. "In terms of graduate study, I look forward to developing activities that supplement and complement our graduate programs in a way that we can expand and enhance the educational experiences of our students."
In terms of his own research interests, Fergus has been involved in high temperature and solid state chemistry of materials, including energy storage and conversion in fuel cells, batteries and thermoelectric devices, as well as research into chemical sensors and stability in high-temperature materials.
His educational interests include the promotion of interdisciplinary educational experiences and the inclusion of sustainability related issues. His interests also include the recruitment and retention of students from underrepresented groups in science and engineering.
Fergus succeeds Nels Madsen, who will return to teaching and research as professor of mechanical engineering.
"Nels is looking forward to focusing on his teaching, research and advising interests," Roberts noted. "We are extremely grateful for his 13 years of service in the dean's office, and all that he has done to advance the College of Engineering."