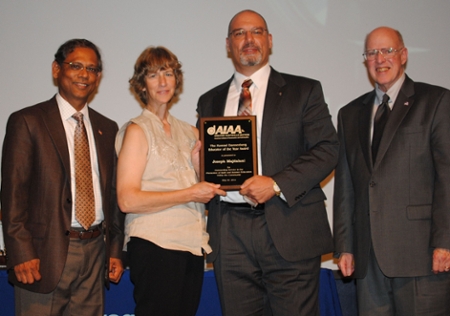 From left to right: Ram Ramachandar, Jacquelyn Dannenberg, Majdalani and Richard Hallion
Photo by Arloe Mayne.
Joseph Majdalani, department chair of aerospace engineering, was honored with the Konrad Dannenberg Educator of the Year award presented by the American Institute of Aeronautics and Astronautics (AIAA) Greater Huntsville Section.
The award is given to a section member who has exemplified outstanding service to education and promotion of math and science within the community. It was named after Konrad Dannenberg, a German-American rocket pioneer who was an avid proponent of education, an active AIAA member, and an inspiration to the aerospace community.  Chris Crumbly, '88 aerospace engineering, and manager of the advanced development office for the Marshall Space Flight Center Space Launch System  program, nominated Majdalani.  Recipients were recommended by an awards committee and sent to the board of directors for its approval.  Majdalani was selected among six finalists.
Majdalani has been instrumental in student success at national AIAA competitions. He has served as a mentor to students who have won eight regional AIAA Best Paper awards and two national awards, and has been an advocate of science, technology, engineering and math (STEM) within middle and high school-level students by leading rocket and science camps. He has also fulfilled several STEM outreach activities sponsored by NASA, AIAA, and the National Science Foundation (NSF) by promoting participation in the BalloonSat program, the University Student Launch Initiative, the Design/Build/Fly experience, and the AIAA student paper competition.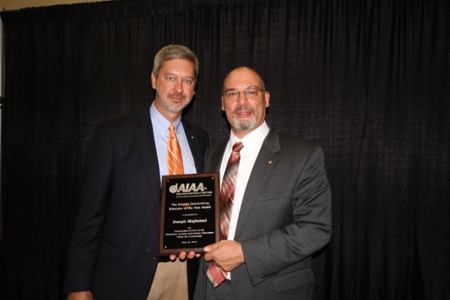 Chris Crumbly (nominator) and Majdalani (right) 
Recently, Majdalani, through NSF funding, provided support for two Research Experiences for Teachers (RETs), specifically for Brett Williams and Rebekah Hyatt, high school teachers and members of the SystemsGo aeroscience curriculum.  Finally, Majdalani fostered the development of two short AIAA courses that are taught internationally in the areas of applied mathematics and hybrid rocket propulsion.
"I am thrilled and humbled to receive this award," said Majdalani. "To be recognized by such a distinct AIAA group is a tremendous honor. The greatest reward for me is working with students who dedicate themselves to empowering the aerospace industry."
Majdalani was presented with the award by Jacquelyn Dannenberg at the 62nd Annual Awards Dinner of the AIAA Greater Huntsville Section in June.