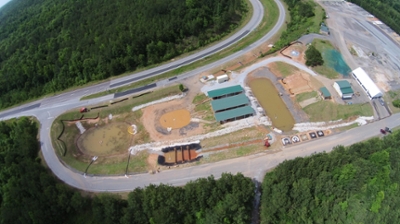 Aerial view of the AU-ESCTF 
Erosion and sediment control has become a national focus within the construction industry. National and state environmentalists have geared their attention toward emphasizing a need for reducing the amount of sediment-laden stormwater runoff discharging into local waterways from active construction sites. Auburn University's Department of Civil Engineering has teamed with the Alabama Department of Transportation (ALDOT) to construct the Auburn University-Erosion and Sediment Control Testing Facility (AU-ESCTF), located in Opelika, Ala, at the National Center for Asphalt Technology Test Facility. The AU-ESCTF was designed and constructed to assist ALDOT in meeting their environmental commitments to protect state waterways from polluted stormwater runoff associated with construction activity.
The current challenge facing the construction industry includes a lack of scientific understanding of traditional best management practices for erosion and sediment control and the utility of new technologies.
Researchers at the AU-ESCTF are working to develop standardized large-scale testing methods for evaluating erosion and sediment control measures typically employed on highway construction projects. Through the primary missions of the AU-ESCTF (research and development, product evaluation, and training), the testing facility aims to provide information that can be adopted by state departments of transportation (DOTs). Adoptions of tested and improved practices to DOT Standard Specifications assist designers and contractors in minimizing the environmental impacts of sediment-laden stormwater emanating from construction sites.
Research and development activities at the AU-ESCTF aim to minimize impacts to the surrounding environment by establishing a scientific understanding of erosion and sediment control practices. The product evaluation aspect provides performance based testing of manufactured products or systems seeking ALDOT approval for inclusion on qualified approved product lists. Training provided at the AU-ESCTF focuses on using knowledge gained through research and development and product evaluation components to showcase and communicate improved erosion and sediment control practices to professionals in the construction industry.
As research and technology progresses, researchers aim to continually improve the effectiveness of current erosion and sediment control practices used in the field, and develop new and novel treatment techniques.
Visit the AU-ESCTF on YouTube to see videos of current, ongoing research.

Contributed by Valerie Cashin