College of Engineering / Offices / Network Services / Helpdesk / Computer Recommendations
---
Computer Recommendations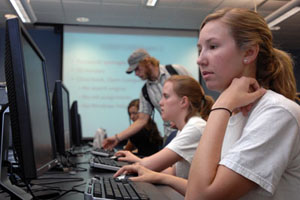 Computers are an essential part of engineering and Auburn's computer network is one of the finest in the nation, including wireless access in many areas of campus.
Students are not required to have a personal computer, it is strongly recommended. The dominant systems in the College of Engineering are IBM-compatible PCs. Students who wish to purchase a computer are encouraged to purchase IBM-compatible PCs. Students who do not own personal computers can utilize our 24-hour student computer labs.
You may also access the Virtual Desktop using https://aub.ie/engwvd/   (recommend for Mac computers)
Computer Recommendation Information
USB Pen Drive:
  32 GB USB Pen Drive
Printers:
B&W - Recommend laser printer for black & white printer. HP LaserJet or Brother - Approx $120-250
Color - HP DeskJet, Canon BubbleJet, Epson Stylus; Approx $75-200
Software:
Windows PCs will come with Windows 10.  
Microsoft Office is used in most curricula and is in all Engineering computer labs. Students, Faculty, and Staff have access to Microsoft Office 365.  You may download that from OIT, http://auburn.edu/oit/365/. LibreOffice is a free alternative to Microsoft Office. LibreOffice is available for download online from libreoffice.org. LibreOffice supports all Microsoft Office documents formats. 
Microsoft Azure for Education allows engineering students and faculty to download Microsoft software through an agreement between Auburn University's College of Engineering and Microsoft. Microsoft Azure for Education puts professional developer tools and software in the hands of faculty and students. It allows faculty to challenge and excite their students by teaching with the latest technologies.  Windows 10 is available through this if you elect to purchase a Mac.  https://imapssl.eng.auburn.edu/software/software/showcase.php?software=imagine
Virus Protection: Windows 10 has a built-in Virus Protection (Defender).  Defender is in the top 3 of antivirus programs.   Other options are free as well. (ie. Avast! Free, Free AVG or Avira Antivirus)
Other software may be purchased as needed for coursework. It is recommended that you not purchase this software in advance due to version and requirements change